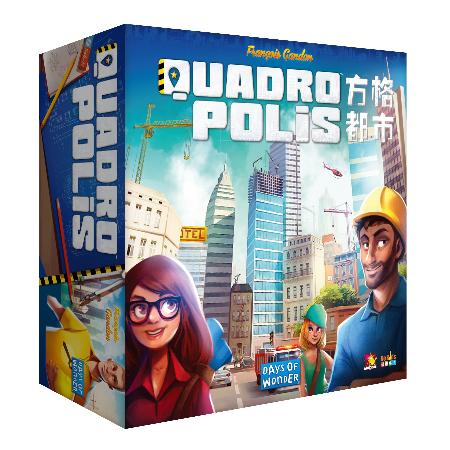 Language:
Chinese Traditional
每个玩家在四城(最初被宣布为城市狂热)建造他们自己的都市,但是他们为了商店、公园、公共服务和其他的建筑而互相竞争。

游戏持续4轮,在每一轮游戏中,玩家首先在5x5网格上随机放置相应的方块。每个玩家都有4个架构师,编号为1-4,而在一个回合中,一个玩家将一个架构师放置在网格中的一个行或一个列中,并宣称该架构与架构师的数量一样多(例如:第四块是架构师4),在玩家的4x4城市板上放置适当编号的行或列,然后声明任何与瓦片相关的资源(居民或能量)。

Each player builds their own metropolis in Quadropolis (first announced as City Mania), but they're competing with one another for the shops, parks, public services and other structures to be placed in them.

The game lasts four rounds, and in each round players first lay out tiles for the appropriate round at random on a 5x5 grid. Each player has four architects numbered 1-4 and on a turn, a player places an architect next to a row or column in the grid, claims the tile that's as far in as the number of the architect placed (e.g., the fourth tile in for architect #4), places that tile in the appropriately numbered row or column on the player's 4x4 city board, then claims any resources associated with the tile (inhabitants or energy).