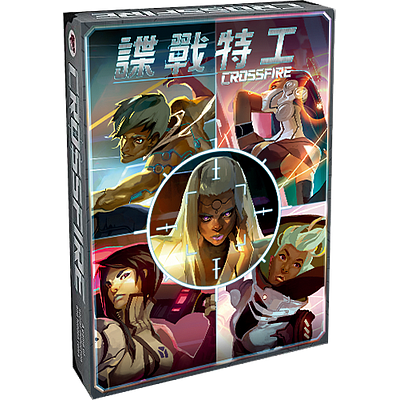 Language:
Chinese Traditional
Raxxon将通过一个由民用交通运输部门来运送VIP。这使得任务变得棘手。当他们试图甩掉你的时候,你将独自工作。别被骗了。在机会溜走之前,你需要进入并完成工作。只是要确保不要在交火中被抓住。欺骗和谈判是你最好的工具。完成你的任务,不管代价是什么。
在幽灵行动的世界里引入了一种游戏。爱默生Matsuuchi又与格子帽游戏把玩家回到反乌托邦之间的斗争Raxxon A.R.K.这个时间,玩家在两队竞争保护或暗杀Raxxon贵宾,在试图确定在餐桌上其他玩家是否他们真的声称自己是谁。时间紧迫……

The Intel is solid. Raxxon will be transporting a VIP through a sector heavy with civilian traffic. This makes the mission a tricky one. You'll be working alone as they try to throw you off their tail. Don't be fooled. You need to get in and get the job done before the chance passes by. Just be sure to not get caught in the crossfire. Deception and negotiation are your greatest tools. Complete your mission, no matter the costs.

Introducing Crossfire, a game in the world of Specter Ops. Emerson Matsuuchi has partnered with Plaid Hat Games again to take players back into the dystopian struggle between Raxxon and A.R.K. This time, players compete in two teams to either protect or assassinate a Raxxon VIP, while trying to determine whether other players at the table are who they really claim to be. The clock is ticking...