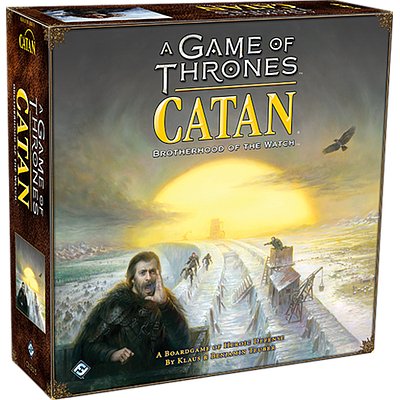 權力的遊戲:卡坦 中文版 A game of Thrones Catan CNT
Language:
Chinese Traditional
权力的游戏 卡坦:Brotherhood of the Watch是基于Catan基础游戏的经典定居者。在这个游戏中,每个区域都提供了五种资源中的一种:木材、砖块、羊毛、谷物和矿石。然而,贫瘠的冰原却没有产生任何东西。玩家们扮演守夜人兄弟的角色,利用这些资源加强他们对北方的控制,修建道路、定居和储存资源;为他们的巡逻队招募警卫;开发或购买卡片。每一种行为都可以通过获得胜利点数来增加玩家的力量和声望。这一目标对卡坦的玩家来说是很熟悉的;第一个获得10个胜利点数的玩家赢得了比赛,成为了新一代的守夜人。

但这并不像听起来那么容易,因为各个区域都可能存在危险。来自长城以北的野人已经越过长城,遵循他们自己的荣誉规则,违背了维斯特洛的法律。他们的一名成员,Tormund Giantsbane,不尊重守夜人对土地的捍卫,从兄弟那里掠夺了他们的资源。当托蒙德沿着南城墙疯狂地奔跑时,野人们聚集在寒牙里,等待着时机,来突破守夜人的防御,并在维斯特洛成果丰硕的土地上展开。除了建造,玩家必须在战略上平衡他们的资源,以保卫王国不受掠夺者的保护。

A Game of Thrones Catan: Brotherhood of the Watch is based on the classic Settlers of Catan base game. In this game, each area supplies one of five resources: lumber, brick, wool, grain, and ore. The barren Ice Fields, however, produce nothing. Players take on the role of Brothers of the Night's Watch and use these resources to strengthen their hold on the north by building roads, settlements, and keeps; recruiting guards for their patrol; or buying development cards. Each of these acts bring players increased power and recognition through the awarding of victory points. The objective will be familiar to players of the original Catan; the first player to achieve ten victory points wins the game and becomes the new Lord Commander of the Night's Watch.

But this is not as easy as it sounds as the areas can be treacherous. Wildings from north of the Wall have crossed over and follow their own rules of honor, which often conflict with the laws of Westeros. One of their ranks, Tormund Giantsbane, does not respect the Watch's claim to the land, robbing resources from the Brothers. While Tormund runs amok south of the Wall, Wildling forces gather in the Frostfangs, awaiting an opportune moment of weakness to breach the Watch's defenses and spread throughout the fruitful lands of Westeros. In addition to building within the Gift, players must strategically balance their resources to defend the Realm from Wildling raiders.