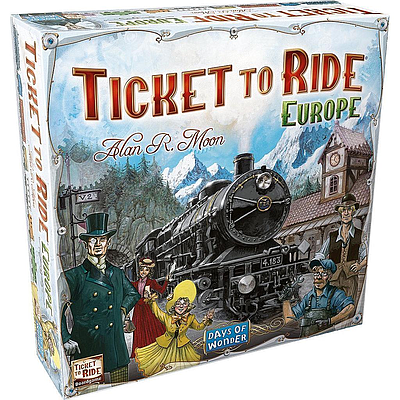 鐵道任務 歐洲 中文版 Ticket to ride Europe CNT
Language:
Chinese Traditional
铁路环游
游戏人数:2-5
适合年龄:8+
游戏时间:30-60
回到20世纪的美国,追随前人的足迹,沿着铁路线开始一项新的挑战,踏上衡越大陆的冒险旅程!
欢迎来到《铁路环游》,在这里你将回到1900年的美国,作为完成了环游世界80天壮举的Phileas Fogg的大学同学,你们为了纪念他的丰功伟绩,开始了自己的挑战之旅:100万美金的奖励!7天的时间!搭乘火车造访北美最多的城市的一位便是最终的胜利者。
为了达成这个目标赢得挑战获得大奖,你将需要合理的计划你的行程,规划你的线路。通过收集不同的车票来在城市之间旅行,你所途径和路线越长,造访的城市越多,你就距离胜利更进一步。
现在,计时开始。。。快!踏上这场穿越北美的冒险旅程吧!

Ticket to Ride
2-5 Players
For 30-60 minutes
Age: 8+
Back to the last century of America, it's an epic challenge along the railroad across the continent!
Welcome to Ticket to Ride, it's 1900 now, and you make a bet with your friends: the guy who visits most cities in Amercia by train will get a million dollars as prize! In order to win the money, you need to carefully make your schedule. Collect different tickets and visit different cities. The longer you travel, the closer you will be to the victory.
It's time to start the breathtaking adventure!